New Policy & Service Changes
Effective on 13/04/20
Schedule Post Covid-19 (Current Clients Only) - The schedule will be done according to requests only. So if you want to resume your cleaning services, please contact us to book a day and time.
Service on Hold (Current Clients) - The clients that put their cleanings on hold until further notice may not have the same spot on the schedule once they resume their services.
Day/Time - The scheduled day and time you had before, might not be the same one from now on, or at least until things are back to normal. Please contact us.
First Cleaning - To start, we advise all clients hiring our services for the First Time to do a Deep Cleaning. We don't know your home yet, and how often it is cleaned. A Deep Clean will help for future maintenance once you sign up for Regular Service - (Housekeeping, Weekly, Bi-weekly, Every 3 Weeks or Monthly). For every Cleaning we book a Minimum of 4 Man hrs (2 hrs in 2 cleaners). During the job, if the team needs more than 4 Man hrs to finalize the job, they will contact their manager immediately to advise. The manager will contact you to ask for your approval. Once the First Cleaning is done, a flat rate for following cleanings can be negotiated.
Social Distancing - During the cleaning, we advise you avoid being in the same room as our staff, and if so, make sure you follow the social distance rule of 6 feet away (2 M). We have also instructed the teams to follow the same rule between them, and if possible work in different rooms.
PPE - Personal Protective Equipment - We have provided Masks, Gloves for all staff. They must wear a mask and gloves entire time during the job (Arrival to Departure). They were also advised to wear Crocs to avoid exposing their feet. Crocs are also easier to disinfect after each job avoiding the spread.
Cleaning Equipment - We have always offered to bring all supplies and equipment, however from now on we believe clients should have their own equipment to avoid any spread of bacteria and virus of any kind from one client to another. Even though we have always sanitized and cleaned our supplies on a daily basis, for safety reasons we are making this change. (See the list of equipment you must provide from now one). We'll only continue to fully supply for Move in/out Services, Post Renovation and Post Construction and Commercial Cleaning Services. We'll also offer the convenience of buying all supplies to you and sharing the receipt for a reimbursement with your next cleaning if you prefer. Let us know what is best for you.
Products - We will continue to supply products. We prefer using the products we already know how to use. For the First Deep Cleaning we advise using stronger products and not eco-friendly ones, to guarantee a better disinfection.
Paper Towel & Garbage Bag - We'll continue to request these 2 items, however if you do not want the teams to use paper towels, we ask you to provide microfiber cloths that we can use for cleaning toilets, mirrors and windows. Note that these cloths must be washed and sanitized between one cleaning and another.
Checklist - Note that, in order to complete the entire checklist, depends on time, and how you maintain your home organized and clean. Teh more time we have more detailed we can be.
Extra Requests - Doing dishes by hand, cleaning inside the fridge, oven, cabinets, folding clothes, doing laundry, and organizing are considered extra tasks, and they need to be requested in advance not on the same day for the teams.Teams are instructed to only follow orders from their manager. Extra requests require additional time and sometimes extra charges, so contact us in advance to discuss.
Arrival Time - We ask you to expect our teams with 1 hour window time - meaning they may arrive 30 min before or 30 minutes later your booked time. Some teams use public transportation and delays may occur very often. We'll try to keep you posted if they will delay over 30 minutes. During Quarantine delays may occur very often due decrease of public transports on the roads.
Survey Emails - Surveys help us to keep tracking the quality of our services and how we can improve each time. The teams that don't receive any negative Feedbacks (Score below 3/5) receive a monetary bonus on their payment. Let us know if you are happy or not and if not the reason, so we can work on improvements and avoid the same mistakes to happen. (***Note that, since we are in low demand of jobs right now, we will not be sending surveys until the company gets established again)
How to Score your Service?

1 Star - Unsatisfied - The team did a really bad job, missing multiple areas, not cleaning properly, absolutely not happy.
2 Stars - Needs Improvement - The team did all the tasks, but needs more effort on some or specific areas, the quality needs to be improved.
3 Stars - Good - Standard Expectations were attended, you are happy with the service.
4 Stars - Great - Above Expectations, the team did a really great job.
5 Stars - Excellent - Above & Beyond Expectations, the team did a Fantastic Job and you couldn't be happier.

When you give scores 1-3 Stars, please let us know the reason. The teams are trained to provide a 5 Star work and they work hard to get this score. Our goal is to provide a 4-5 Stars Service.

Payments - From now on, our preference will be cash to be paid on the same day and time of your cleaning. If you are charged by hour, we'll give you a flat rate for all cleanings from now on. We have always received many late payments harming the cash flow and suppliers payments, so to avoid this to happen, mainly during this time where there's no cash flow, we need to guarantee our staff is always paid on time. If you forget to leave the payment, we'll send you an invoice on the next day with a 48 hr limit to make the payment. Additional 2% (Daily) fee will be added for all invoices not received within 48 hrs. Invoices can be paid by e-transfer or credit card. If your preference is online payment, that's fine, as long as you pay within 48 hrs since you received the invoice. Invoices over 30 days late will be sent to a collections company and the service will be automatically cancelled.
Referrals - For each referral, 10% off on your next cleaning. The more you refer us, less you'll pay on your next cleaning. (Discount applied only after the cleaning is done for your referral).
Cancellations - You have 48 hours prior to your cleaning day and time to notify us you need to cancel your cleaning or skip. Cancellations done at the last minute harms the schedule, sometimes causing more cancellations on the day, for this reason if you cancel last minute (less than 48 hours) you will be charged for a cancellation fee (50% of your current rate). If your cleaning day is Monday, make sure you notify us about the cancelation on Friday until 5 pm.
Reviews - Let others know how we are doing. We'd love to receive a review from you on our social media. Whenever you have some time, write us a review and let others know how happy you are.

Website: enjoyhousecleaning.com | Facebook: @enjoyhousecleaning | HomeStars: Enjoy House Cleaning.

Sickness - If you or any member of your home is sick, please notify us immediately, so we can increase our care precautions. Same will happen if any of our staff scheduled to clean your home is sick, we'll ask them to stay home, and if we cannot find a replacement to cover the day, we'll contact you immediately to reschedule your appointment. (If this happens, we'll apply a discount or credit - to be discussed).
Questions and Doubts - If you have any questions, please contact us. You can call us from Monday to Friday - 9 am to 5 pm or email us at enjoyhousecleaning@hormail.com, we'll reply within 24 hours.
We hope you understand that all the changes are being done for the well-being of each of our clients and mainly our staff that are front liner workers. We are flexible to accommodate requests and we are here to help you in the best way. Contact us if you have any questions or want to discuss your services with us.
Supplies and Equipment each client must provide:
***These supplies can be found at any Dollarama Store
3 sponges - 2 for bathroom and 1 for kitchen (Yellow bathroom and blue for the kitchen)
2 brushes (scrubbers) - 1 for tiles and 1 for inside the toilet.
1 Bucket - if possible wring mop bucket
1 Mop Pole (Regular broom pole)
2 Plastic cups or recipients - we use them for mixing the products to wash the bathrooms and kitchen (to avoid waste of products).
Vacuum*** - Canister Vacuum (Preferred) - If you have a canister vacuum we can use let us know, otherwise we can continue to use our own. Upright vacuums are heavy and hard to use delaying the time of the job. (A small canister vacuum costs approximately $60 at walmart).
Paper Towel or Microfiber Cloths to clean toilets and mirrors.
Garbage Bags

Wring Mop Bucket

kitchen Sponges

Bathroom Sponges

Paper Towel

Mop Pole
(Regular Broom Pole)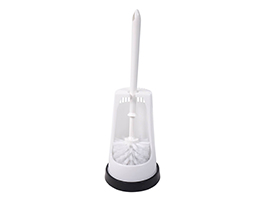 Toilet Brush

Cleaning Brushes

Plastic Recipient or cup

Canister Vacuum Bagless

NOT Upright Vacuum

Garbage Bags - Any Kind

Microfiber Cloths
Supplies and Equipment we'll continue to supply:
Canister vacuum - if you can't provide your own, we'll continue to use ours. We'll be disinfecting from one client to another using alcohol 70.
Swiffers - Handle and refills
Squeegee
Products (See list below)
Mops & Cloths - Daily washed and sanitized, for each client clean ones.
Safety Equipment for the teams - Gloves, Masks, shoe cover, scrub uniform, alcohol gel hand sanitizer.
List of Products we'll provide:
Swiffers Refills
Mops & Cloths
Avmor Germalin - Hospital disinfectant
Germalin kills Canine parvovirus and is likely to kill the SARS-COV-2 (the virus that causes COVID-19).
https://www.avmor.com/product/germalin-cleaner-degreaser-disinfectant/
Non - Eco-Friendly
Lysol Disinfectant (Lime) - Surfaces & Tile floors
Dish Soap - Bathrooms and Kitchen
Clorox, Vim Cream (with bleach) or Fantastik - Bathroom & Kitchen
Murphy Oil - Hardwood Floors
Windex - Glass and Mirror
Easy-Off - Oven
Stainless Steel Cleaner
Eco-Friendly
Vinegar - Surfaces, floors, glass and mirror
Baking Soda - Bathroom & Kitchen
Murphy Oil - Hardwood Floors
Dish Soap - Bathroom & Kitchen
Eco Max - All Purpose
---